In a bid to keep our environmental footprint at a minimum, Astor Metal Finishes has made some significant changes to the way we use water. We have made some fairly momentous changes and are proud to announce that these changes are saving us more than 150 000 litres of water a day. We had the pleasure of partnering with Sydney Water to explore our processes and design systems that massively reduce our water usage.
What were we doing?
Electroplating is a pretty complicated process. We have tried to break it down for you in our Modern Day Alchemy series explaining the history and processes of electroplating.
There are many steps to creating the stunning pieces we produce, and almost every step requires the piece to be rinsed of the excess chemicals. As you can imagine this can use a lot of water. In fact, at one stage we were averaging about 180 KL a day. Something needed to change and we were thrilled to have the opportunity to work with the Sydney Water efficiency experts to create the best outcome for us and the environment.
How did we change it?
With the support of the NSW Government's Climate Change Fund, the team at Sydney Water helped us develop a whole new set of systems that substantially altered the way we use water.
Simple housekeeping changes have helped us be more sensible in our day to day usage.
It is the new and improved equipment that has really made a splash. We are now using an Ion Exchange system. The water we use for each rinse is processed through this new equipment that strips the water of ions and excess salt. This newly purified water can then be reused for rinsing.
What does that mean?
This means we have reduced our water usage by an extraordinary amount. We have cut down our daily usage to not much over 9 KL. These levels will make an enormous difference in our waste, and these results even pushed our trade waste risk rating with Sydney Water down to the minimum.
We were even mentioned as a case study in the Water Services Association of Australia Meeting Australia's Water Challenges report.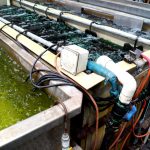 Great news for you and us!
The cool thing about these changes is that it doesn't just benefit the environment. These changes benefit Astor Metal Finishes and you, our loyal customers.
The purified water is much cleaner than regular drinking water, and as a consequence, our finishes are better than ever. We have always prided ourselves on the quality of our product and are happy that these changes have affected our finishes only for the better.
In addition to that, the massive increase in water efficiency means much lower water bills. These savings enable us to focus more on creating the best and most stunning finishes for you.
What else can we do?
Our commitment does not stop there. We are consistently working on reducing our footprint wherever we can. We use natural light where we can and have solar panels that make use of our rugged sunny weather to fuel our business where possible. Stay tuned for an exploration into other ways Astor Metal Finishes conserves energy.
Our goal is to provide exceptional gorgeous and personalised finishes for you while maintaining a conscientious and energy efficient workplace.
If you want to see how we are conserving energy yet producing exquisite quality, come in for a tour of our factory in Villawood.