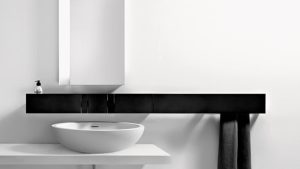 For one metal, there are so many different aesthetics. The many personalities of black nickel can show through with varying base metals and our preparation of the base metal or number of top coats (or lack thereof) can lend themselves to such contrasting results. Being placed next to other materials can result in outright glamour, luxe & plush or subtle, understated perfection and more industrial and living finishes which are designed to show the fabrication process and the natural wear & tear.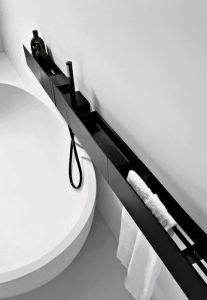 Highly Polished
The most obvious luxe variation of black nickel is mirror polished, bright, highly reflective and finished with a clear gloss or  ORIONIS Polished Black Nickel + Clear Gloss.
Furniture, trophies, lighting, signage are often specified in Orionis. This finish sits beautifully next to reflective mirrors, polished black marbles as well as off-form concrete and distressed timber. Sleek flat bar mirror frames for very clean, modern lines to stand out against a flat black paint or honed tile gives life to any standard black colour scheme. Many retail, hospitality and Casino projects also have a lot of fun with this finish.
Satin Pearl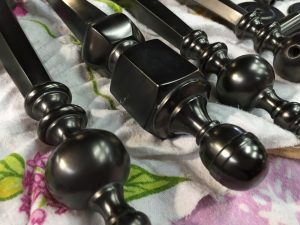 This is a smooth, powdery finish that has been increasingly developed by Astor with increased capacities as a result of the forever growing list of variations to meet designers' briefs and expectations.
With the humbleness (and ease of specification) of a simple flat black, however, this is not just a flat black finish. The two satin pearl finishes are known as:
PROCYON  Satin Pearl Black Nickel + Satin Clear
PROCYON NATURAL Satin Pearl Black Nickel oiled
There are high points, and pearlescence also known as a satellite finish.
This can be left as an un-lacquered finish which dulls and tarnishes leaving stains, oil marks and handling wear & tear. More abrasion will eventually wear back to silvery nickel underneath. This adds life to metal finishes as they change naturally, showing use and 'love' over time.
We recommend plating this onto Brushed Stainless for a slight hairline visible under the plating. One of the best applications we have seen to date is the 4000mm high rangehood at The Murdoch's House, Bellevue Hill by Meacham Nockles McQualter.
The grain ran vertically, accentuating the height and the panels themselves were gently curved around the sides. If only we could date photos in some of the many high-end residential projects we work on!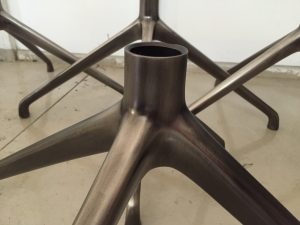 Industrial
We are often asked for an 'industrial finish'. To make any of our finishes industrial there are two things we would recommend.
Do not prepare the base metal
Do not coat the finish
Electroplating is a molecular bonding process and as such the finish does not change the shape or profile of the base metal but rather will follow the ups & downs and minute undulations.
By not preparing or polishing the base metal, fabrication clues can be seen; holes drilled, laser cut rough edges, weld marks, clamp marks from bending and any other number of accents.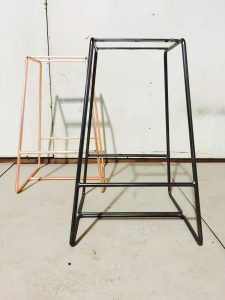 Other than to clear coat with a satin 2 Pac, uncoated PROCYON can be left un-lacquered and can be oiled or wax rubbed. Over time these absorb in and the pollution, dust or environment will have its natural effect on the finish. That is primarily it will dull. Handling marks and wear & tear are also allowed to have their influence. Rather than powder-coating shipping or lacquer flaking where scratched, this finish will dull with additional handling. Oiled marks will also leave stains as will drinks, acids and salts. This creates another layer of patination over time.
While the likes of Cue Clothing, Mecca Cosmeticca and Rockpool Bar & Grill have embraced our BLACK OXIDE finish, PROCYON is often substituted as it offers a more durable finish, protecting the base metal from oxidisation.
We love that black nickel has the same dark chic look, yet it can be electroplated onto any metal surface and is a lot stronger. Being able to plate onto aluminium suits panels, signage and lighting.  Being able to electroplate onto stainless offers the appearance of blackening for exterior (and wet area use) and stronger items such as shelves, frames, balustrades, frameless glass hardware.
If black nickel is the choice for you, get in touch and we can talk about your choices. If black nickel is not for you, fear not! As you know, we have such a huge range of gorgeous finishes. We can help turn your interior into something incredibly special with our wide range of metal finishes.