Over the coming months, we are going to take a look into some of the metals we can finish. We will explore their history and traditional use. We'll then look at today's trends and how each metal can be both trendy and timeless for your intentions.
We are starting with brass. Brass is a wonderfully regal looking metal, yet its accessibility has meant the metal has been used in a myriad of ways and places. With a similar colouring to gold, brass can give an air of elegance without the expense.
What is it?
Brass is an alloy that is mostly made from zinc and copper. The ratio can vary considerably depending on the intended use, and other metals such as lead can be added to change the consistency. Generally modern brass is 67% copper and 33% zinc.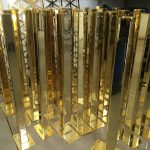 It's a little bit brassy
Some iteration of brass goes back thousands of years. The Chinese made reference to alloys very similar in look and make up to modern-day brass. Even back then, these crude brass-ish metals were used for a surprisingly wide variety of things.
The ancient Greeks and Romans were the first to intentionally create a version closer to today's brass. In the 1st Century, or thereabouts, the Romans used a zinc oxide ore, called Calamine with copper. These opened up the doors to a huge range of brassed products, from coins to ships and even helmets.
Over the years, brass, in its various iterations was used all over Europe and Asia.
All brass
Brass, as we know it, took hundreds of years of development to really become the brass we know today. It wasn't really until 1738, that William Champion patented a new method of making brass that really tapped into what we now use.
From that moment on, there was no stopping the brass. People made coins, clocks, candlesticks, ornaments, keys, locks, needles, textiles, plumbing, nails and more. They even developed an entire section of the orchestra. With its golden appearance and affordability, there was no end to the range of uses.
The cool thing about brass is that it is strong and ductile and yet has surprisingly strong corrosion resistance and machinability.
Trendy, my brass!
Like gold, brass has a distinctly timeless feel. It can give even the oldest bathroom an antiqued classic look. It can add a shine or even a touch of sophistication to your kitchen just with a knob here, or a light fitting there.
Design trends can change dramatically in only a few years, and choosing to design your space with that in mind can be a dangerous game. It's so hard to create something that oozes style and modernity without losing a sense of classic character.
Brass is just one of those metals. Over the last few years, there has been a massive resurgence in the use of traditional materials such a brass in interior design. The great thing for you is, if you choose something ageless like brass, your kitchen won't look suddenly aged when the wind changes. It will remain timeless.
Get Brassed
We can turn your tired metal into classic, unique and modern brass, no matter the size of your project. Whether it is your new apartment development, your kitchen or even your train carriage, Astor Metal Finishes can give you a touch of brass.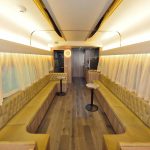 We can do any of the following finishes with brass with custom variations of each:
These are some of the variations of brass finishes we can do;
Linished Brass
Sandblasted brass
Brushed Brass
Polished Brass
Aged Brass
Antique Brass
All of our brass finishes can be finished with wax/oil for a natural 'living finish, with a gloss clearcoat or with a satin clearcoat.
Get in touch with us now to talk about how we can give your project the finishing touches of brass or any number of other metals.