Designing, creating, and building projects requires a great level of creativity. The details are an integral part of the overall look, feel and usability of the finished product.
But sometimes creativity is blocked budgets, time constraints, or application. This often leads to the original design being changed – something that doesn't have the wow-factor of the original.
Recently we looked at some of the limitations of metal finishing techniques. But for every limitation you face, there is also a range of new possibilities.
Do you really have to compromise the look of a project just because the other pieces of the puzzle don't quite fit? We've put together some examples of great uses and value-added specifications that can be used to work around project limitations – and are sure to impress.
Work with your limitations, not against them
It's one thing to know the possibilities and limitations of different metal finish techniques. But being able to mix, match, and apply them to real projects can bring surprising results.
Specifying a finish is not always easy. This not only increases the chances of finishing up with the wrong look or finish, but also missing out on something you never knew was possible.
The truth is there is a lot you can achieve with a metal finish, and it pays to look around and work with the experts to make it happen.
A metal finish can bring much more to your project than just a certain look. Among other things, metal finishing has the power to:
Restore & give new life to old metal;
Change an existing finish;
Match up all different metals; and
Give lesser metals the innate qualities of more valuable metals.
A metal finish's ability to make one metal look and act like another is its biggest advantage.
Why? Well, lots of things can affect what you choose to build with: cost, look, availability, buildability, use, and elements. Sometimes, these factors don't match up with one another, which can lead to poor results, blowout costs, or a difficult build. For example, aluminium is strong, but often uninspiring. Gold is beautiful, but weak. How about gold plated aluminium?
By applying a metal finish, you can achieve the look and feel of a certain metal without necessarily having to use it as a base.
Think outside the box: Examples to inspire
It might all sound a little overwhelming right now. But sometimes a little bit of inspiration is all you need to open up your eyes to the possibilities and get the creative juices flowing.
Here are some examples of where metal finishing and electroplating have been used to not only get stunning results, but to overcome certain project parameters.
Creating Sturdiness & Longevity: SeaDeck (AZB Creative)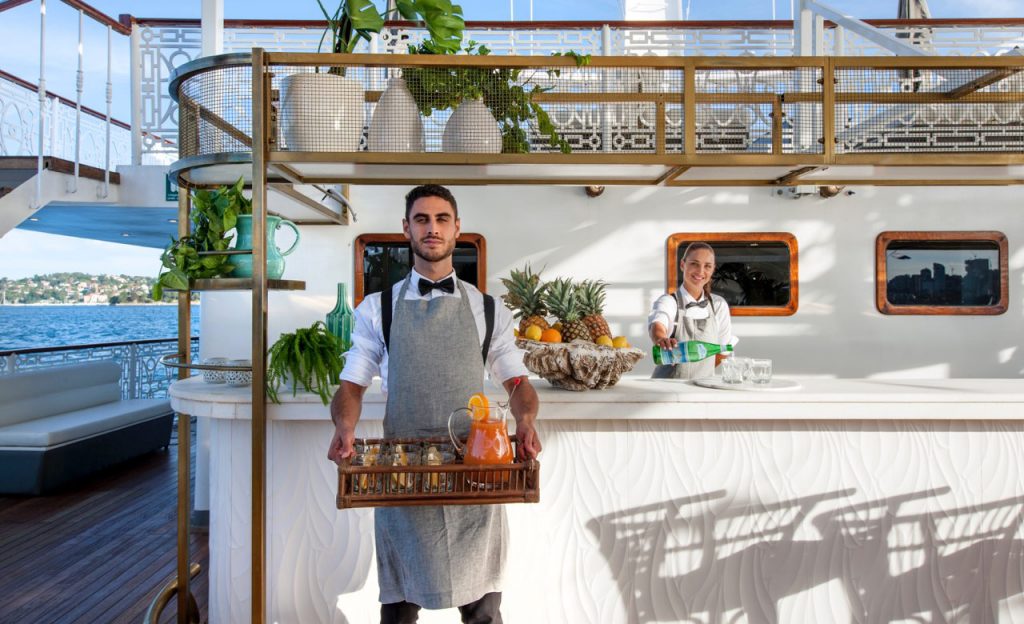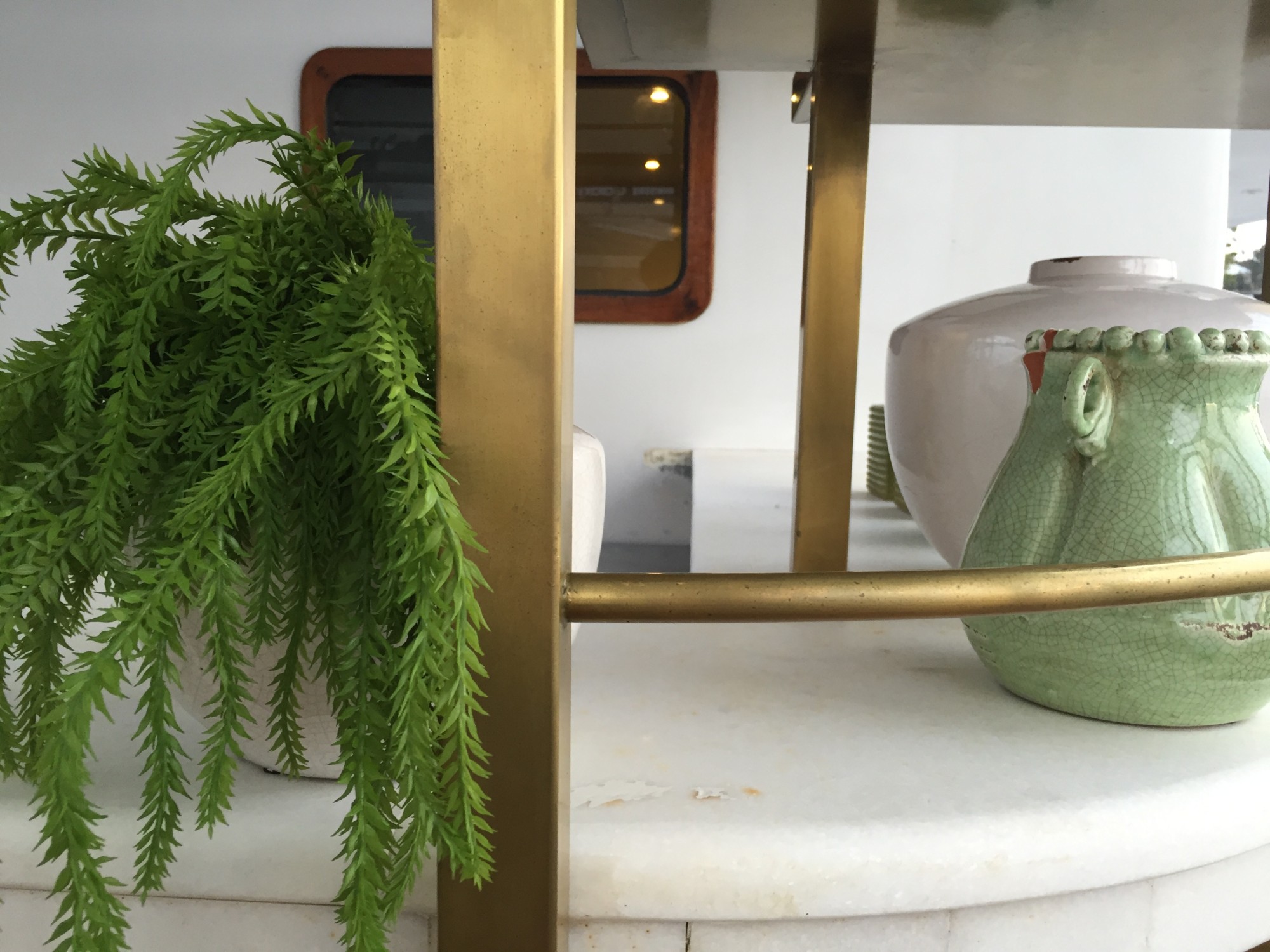 A luxury event space aboard a stunning ship on Sydney Harbour, the SeaDeck design had to meet a very specific aesthetic. However, it also had to meet some strict standards.
The structure needed to be sturdy, and it needed to withstand the elements of the harbour – wind, water, and salt.
The finished product is a brass-plated stainless frame with a light patina. Stainless provided the strength and structural integrity of both the spans, and most importantly the welds, which are far stronger than the braising of brass.
Fabricating from stainless steel also meant a thinner gauge of tube could be used, saving on cost and weight.
Ensuring Buildability & Maintenance: Hilton Hotel, Sydney (Woods Bagot)
As part of one of the best known and most luxurious hotel chains on the planet, Hilton Hotel Sydney is known for its style, design, and embellished interior. But it's not enough for each element to look great – they need to work together in both design and installation.
Multiple metals were used to complete the look. Polished nickel, mild steel, and aluminium and stainless profiles were all utilised for different aspects.
A mixture of base metals was needed to achieve the profiles and ensure buildability. All were finished to match, starting with mirror polishing. Polished nickel does not tea stain like stainless, so was specified to achieve the 5-star finish suited to the Hilton brand.
Saving Time & Cost: Heineken House, Sydney International Airport
This project was designed to be an architectural standout, and needed a very specific design. However, to source the copper required to pull off the look would push out the lead time extensively – it would need to be sourced from overseas.
Instead, a mild steel was used, an option that was economical, readily available, and ensured the much-needed structural integrity. The desired look was achieved through a mirror polish and copper plating with a clear gloss.
But big projects aren't the only ones that can benefit from metal finishing.
Fencing, balustrades, grates and welded frames can also be finished and plated. This allows you to turn common items and materials into something special.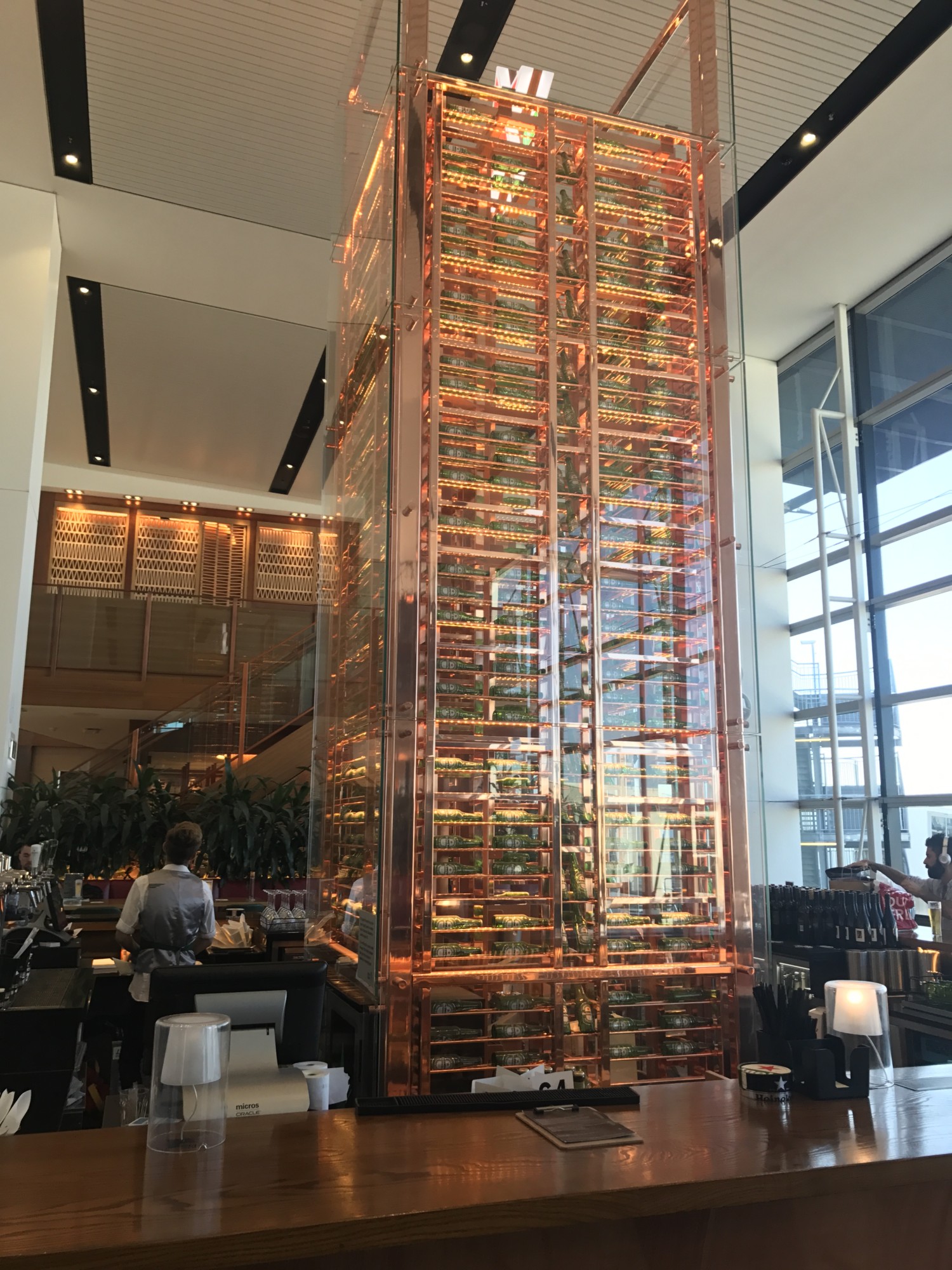 Start producing your own masterpieces
The beauty of metal finishes is that nothing is ever quite as it seems. You can reflect the look of a metal on the outside that differs completely from the internal material used, often saving time, effort, and cost.
Establishing your needs with a metal finishing specialist at the beginning of your project can open up a world of possibilities. It widens your options considerably and makes things possible that might have been out of reach before.
So, where to start? Here are some tips to get you going:
Ready-made items (like fencing or frames) are a sturdy and economical option. Buy them ready-made and have them finished to your taste
Investigate different base metal options that are more readily available or suitable for your project. Then have them finished to resemble your desired metal
Items that can be disassembled or are flat-packed can make finishing, installing, and freight much easier
Work with your supplier. Advise the use and the intended profile before picking a finish or requesting a sample
Ultimately, the right metal finish can ensure the desired look matches the application, use, cost – or any other limitation you face.
Specifying the right metal finish or the right base metal isn't always straightforward. So, working with experts to determine not only what is possible, but the easiest, most practical and most economical way to meet your requirements is your best option.
Astor Metal Finishes is a leading provider of electroplating in Australia.
We've worked on projects across Australia to deliver the right look and results. If you'd like to know what's possible for your next project, or if there's a smarter way to achieve your desired look, try our online specification tool, or click here to contact Astor.